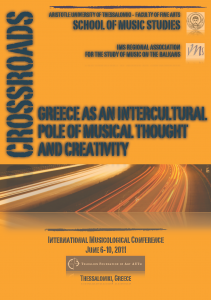 The School of Music Studies of the Aristotle University of Thessaloniki in collaboration with IMS Regional Association for the Study of Music on the Balkans announce an International Musicological Conference on the subject:
Crossroads: Greece as an intercultural pole of  musical thought and creativity
The conference is organised on the occasion of the annual meeting of the Directorium of the International Musicological Society (IMS), and will be held in Thessaloniki on June 6-10, 2011.
The purpose of the International Musicological Conference is to bring together Greek and foreign musicologists and ethnomusicologists, researchers and students of ancient Greek music, music iconography, Byzantine music, as well as Greek and Balkan music in modern times.  All theoretical and methodological means documenting to cross-cultural interactions of the Mediterranean and Balkan people and/or examining the role of ancient Greek civilisation to the conceptualization and creation of European music tradition are welcomed in the conference.
The twofold approach of the Conference is pertaining to both the importance of musical interactions among the countries surrounding the Mediterranean Sea and the Balkans, and the imprint of ancient Greek music in Western-European musical tradition.
On behalf of the Conference Chair
Evi Nika – Sampson, Associate Professor of Historical Musicology and Head of the School of Music Studies of the Aristotle University of Thessaloniki.